By request some time ago people asked me to do this so here it is. I have smoked over 400#s of bacon and this works for me, there are many ways to do it but by trial and error i landed here
this is one of the bellies out of a 60# case some people square it up but I cure the whole belly, then square it after smoking. I freeze the drops I cut off for later use in seasoning vegetables,soups, and for adding to burger or sausage when grinding my own
I have tried several ways to cure,pink salt,no cure at all except kosher salt ( the method with no cure leaves a product that tastes more like ham than bacon) some people worry about nitrates and such friends let me tell ya you eat em everyday. So that being said I use "Morton tender quick" as my cure with excellent results
This is my basic ace in the hole, what i use.. Use 1 tablespoon of morton tender quick (per pound of meat) then i still add kosher salt, from there you have to experiment to see what you like and how much of it. I use pure maple syrup, garlic powder, sometimes I will use fresh honey instead of the syrup you can use all sorts of spices and the amount you want i never measure anything but the tender quick..... use it as it says and do not!!! use any more than it calls for (1 tablespoon per pound of meat!!!)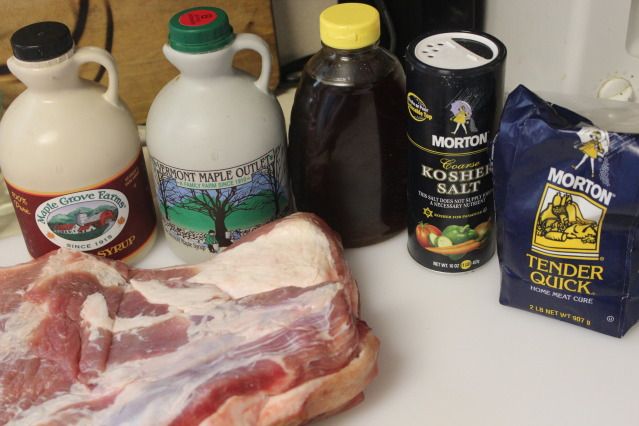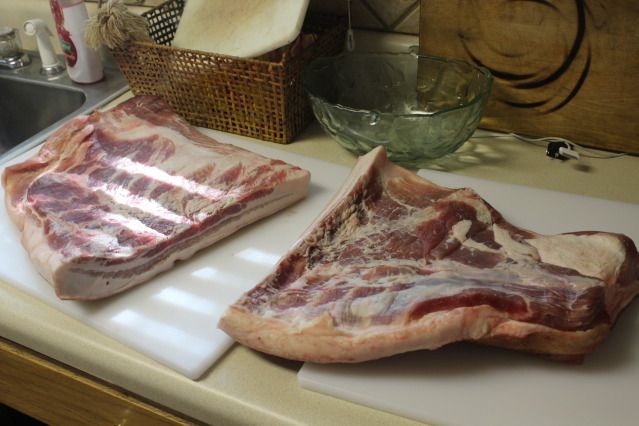 I do cut the bellies in half so when i get through addind my stuff it will fit in a large zip lock bag, I mix everything in a meat lug (plastic pan) it needs to be non reactive to the cure and such, so use something plastic.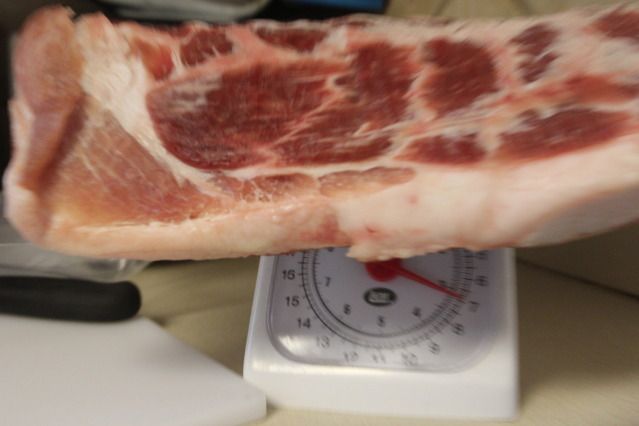 cure is added and seasonings it will be messy!!!! there is no rocket science to this madness, heck I even used some of dinks chick and but rub along with other stuff and it came out great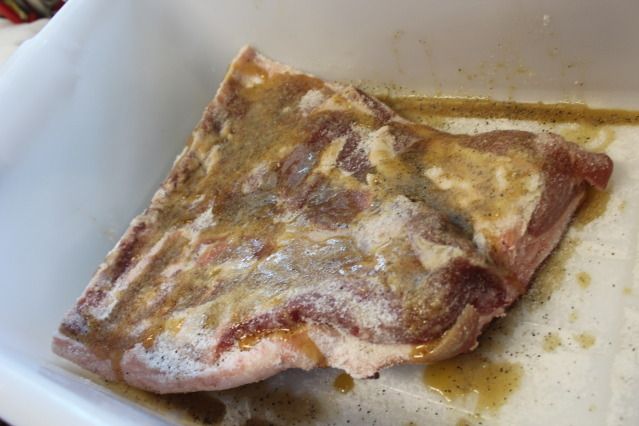 After the cure and seasoning is added i put the belly in the fridge keep the temp in the fridge below 40 degrees as long as the bellies are curing. I try and flip the bellies everyday if I can sometimes it is every other day, but massage the belly to work everything in as you flip it over. That is what I do it just makes sense to me. The belly will start to render some liquid out of it that is the process taking place, it will also start to tighten up some. Some get stiffer than others. I use to cure for 7 days this last time i went 10 and will always go 10 from now on it was better to me. After the curing process wash the belly good, you can cut a piece and fry it to see if it is to salty if it is soak in water for a while and pour off you can do this as many times as you need to. I have only had one batch a little saltier than i like and after i smoked it i soaked the belly and poured the water off a couple of times and it was fine. You do not have to add the extra salt like I did, but that is what I do, the tender quick is enough to cure the belly and if you use only tender quick it will never be to salty in my opinion, i just have to tinker with stuff.
Note: after the belly has been washed let it dry. I put it back in the fridge for a day it will form a pellicle on it this allows the smoke to adhere to the meat better. I smoke with pecan and hickory and I smoke it heavy!!! everyone loves my bacon and once you get it down you will never buy bacon again!!!!!!!!!!!!
in the smoker and smoking like a mug!!!!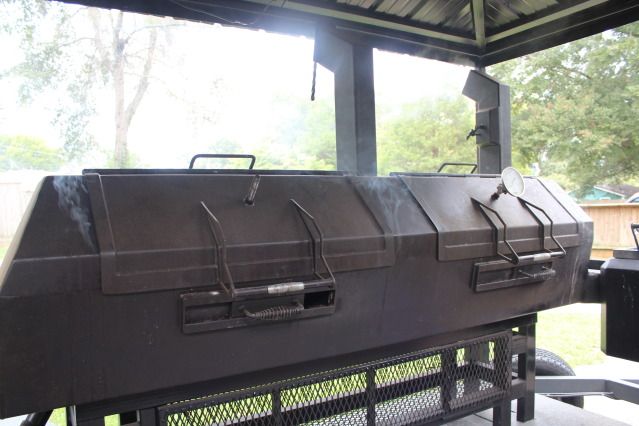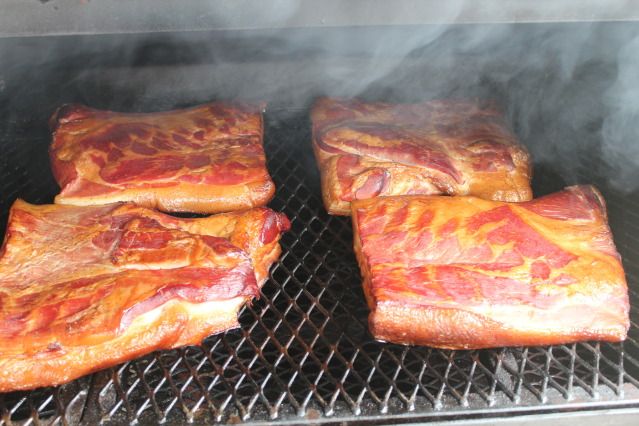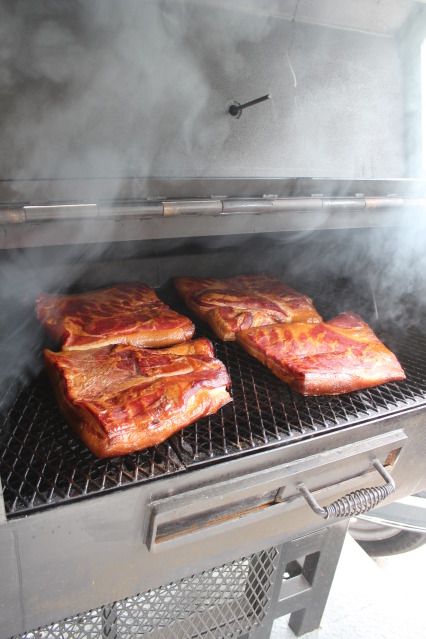 I smoke mine with the skin on it is easier for me to remove the skin after smoking. People say smoke to an internal temp of 140 degrees personally i have never checked an internal temp I smoke it to it looks like i want it to. The belly is cured i am just adding smoke to it... smoke it fairly cool so you do not render the fat out. The last batch I smoked cooler and longer , it was much better. I was 200 degrees and under but as you look at my smoker the fire was on one end and the meat on the other. This smoker is reverse flow with removeable charcoal grates added and i was on the charcoal grates not in the firebox with my heat and wood
finished product with skin still on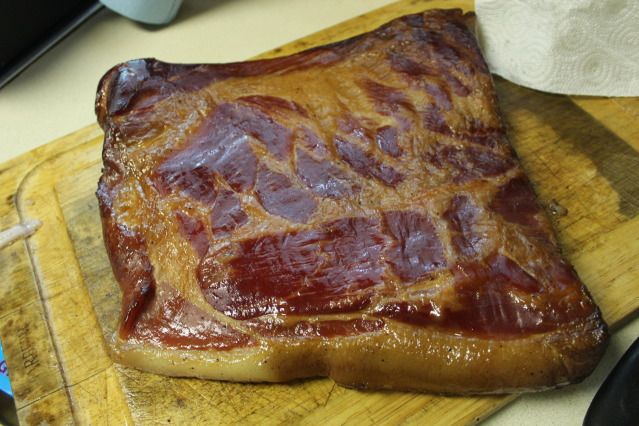 yes that is a hog nipple, belly with skin on, then removed it is easy to remove the the skin.. just do not!!!! take the fat with it!!!!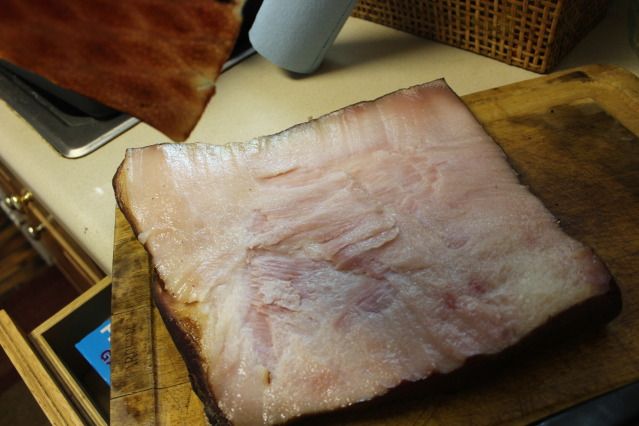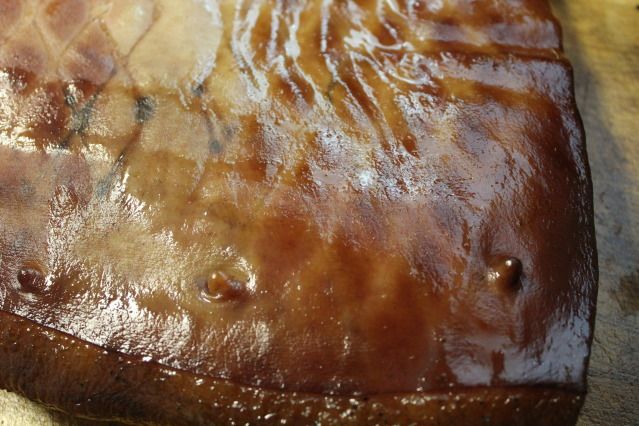 a pic of the skin it should come off in one piece
well guys that should get you started, I do not have the monoply on home cured bacon , but i would not change a thing. I read up on this process for a long time and this works for me