Problem: BBQ Guru CyberQ states that it will only support up to two of their fans, but you believe you believe that you need more power than two of their fans will provide.
My Solution: Build an extraneous power supply to run the fans using a relay to control them.
First my disclaimer - if you do this wrong you can fry your BBQ Guru, your house, or yourself. I make no claim of warranty. Always unplug electrical devices before attempting to work on them.
Just saying.
In my power supply I overcomplicated this a bit more than I should have. I purchased 4 12VDC squirrel-cage PC blowers. These blowers put out 25 CFM and require 2 amps each. The Guru is only capable of about 1 amp at 12V so powering these directly from the Guru simply will not work. The main challenge with using DC blowers is that you need a large transformer, or you have to carry a battery. I was not going to rely on a battery, so I re-purposed a couple of ATX power supplies (PSU) from some old computers I had laying around. These are cheap (free if you have an old computer) and can output 300+ watts, more than enough to run the fans.
First thing I did was separate the the wire that I needed from the ones I didn't. I only need the yellow (+12V) and black (ground) wires.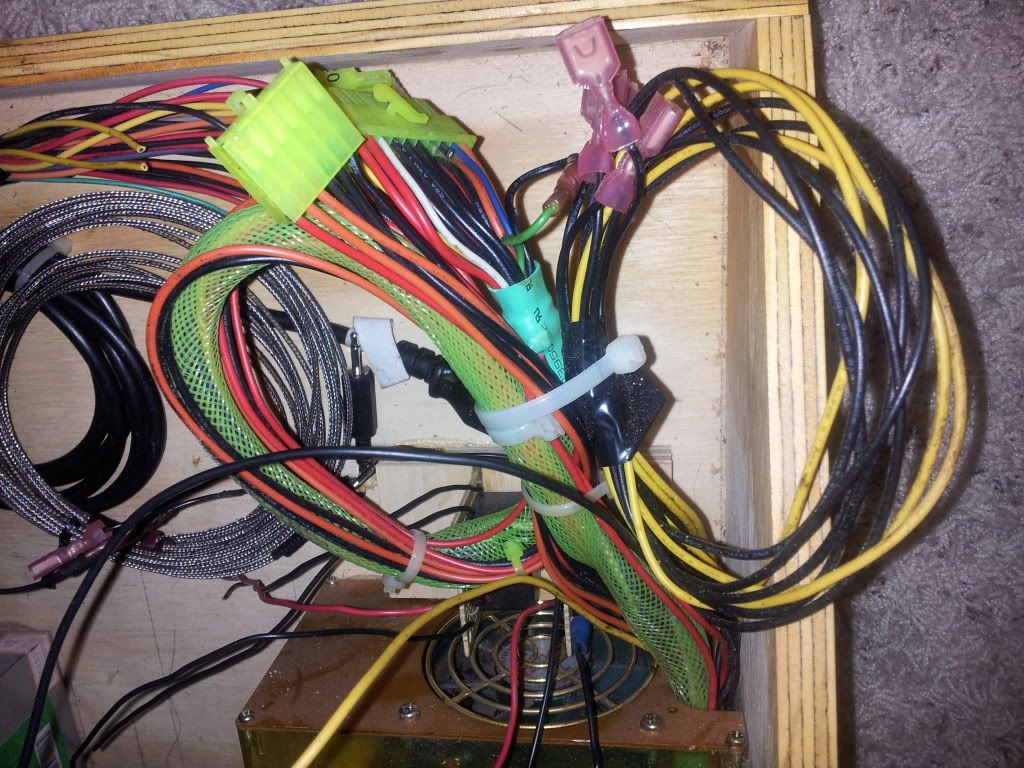 All ATX PSUs contain a switch that prevents the PSU from working if it is not plugged into the motherboard. I bypassed this by connecting the green 'ON' switch to a black ground wire. It's now ready to start generating current!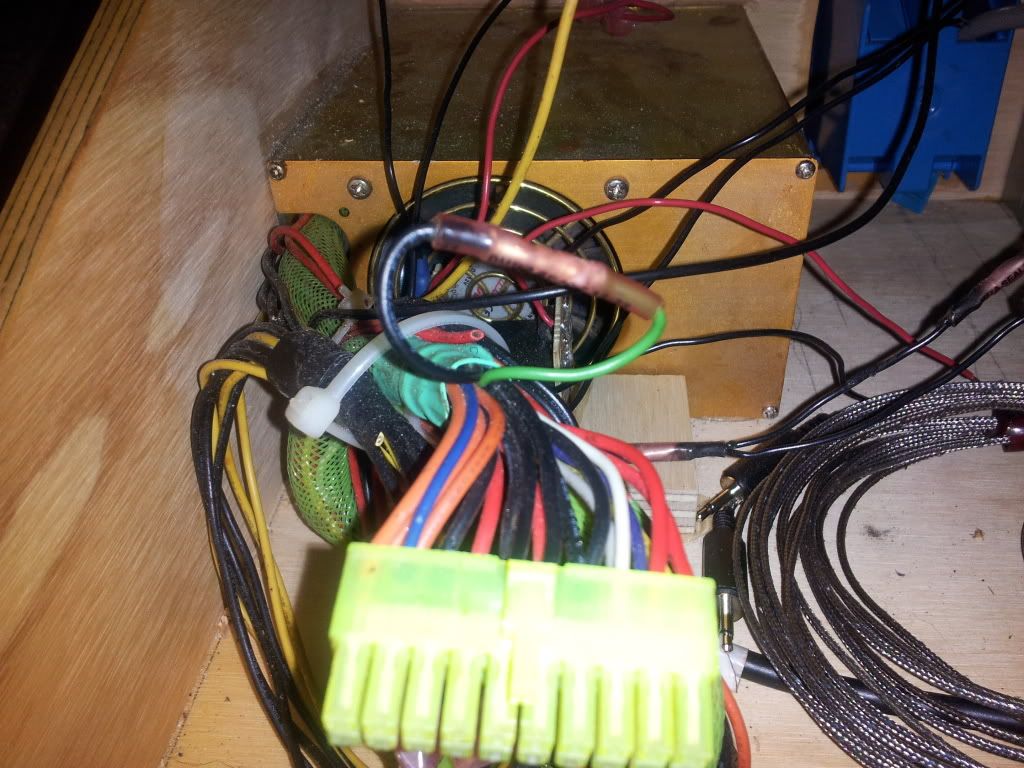 I built a box and loaded two PSUs into it. I did this in case one dies on me in the middle of a cook. I bent up a piece of stainless to create the top of the box.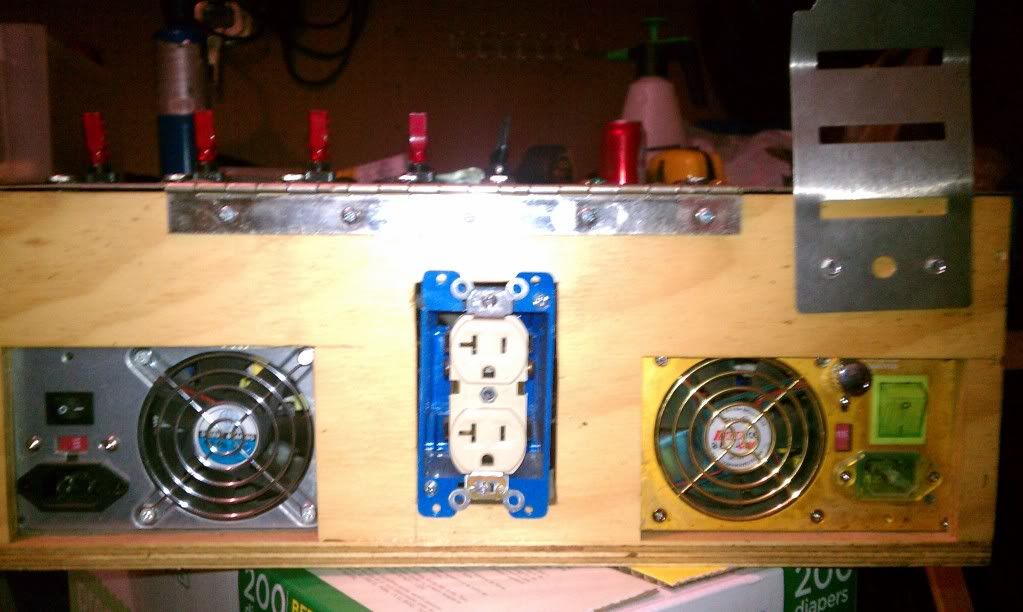 I wired up both power supplies to four jacks that each fan will plug into. The four red lighted switches allow me to turn off/on each fan individually. The two black switches in the middle allow me to configure if I want the Guru to control the fans or just run constantly off the PSU. The second black switch allows me to switch between the two PSUs if one fails.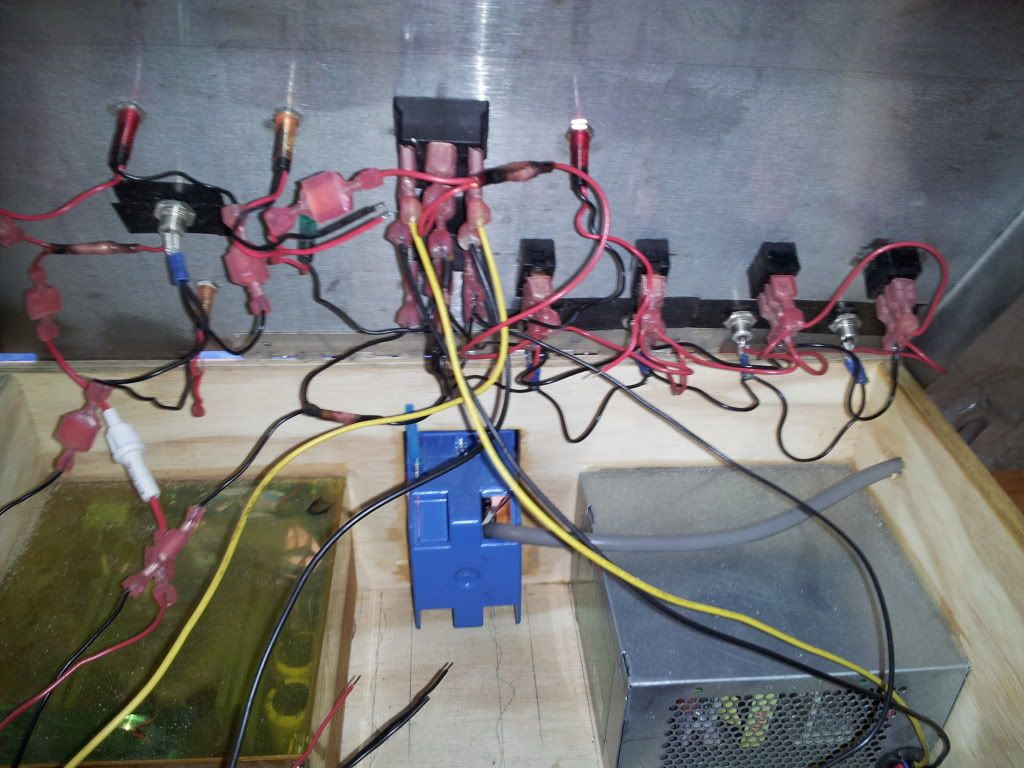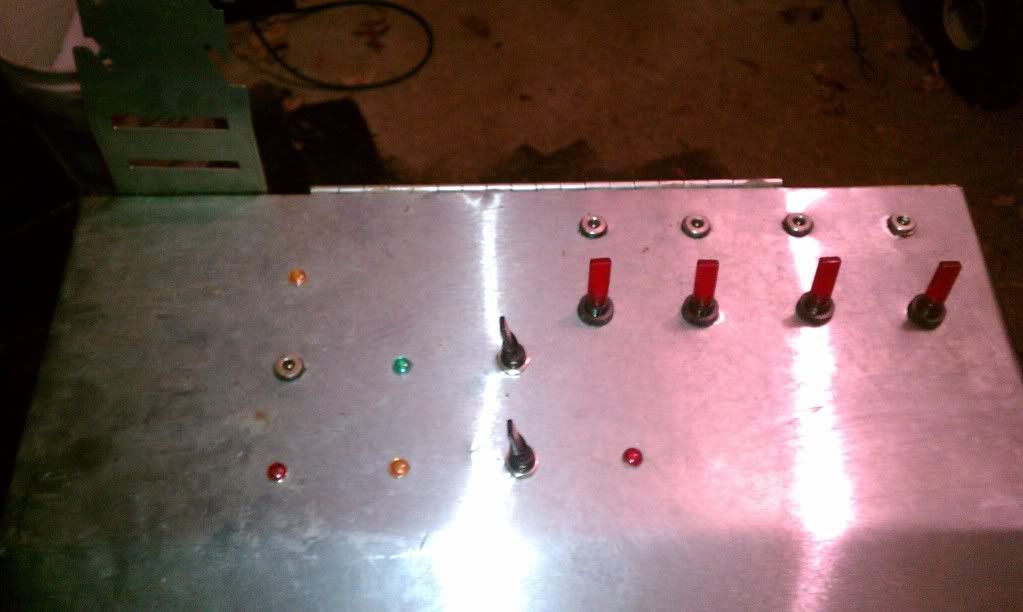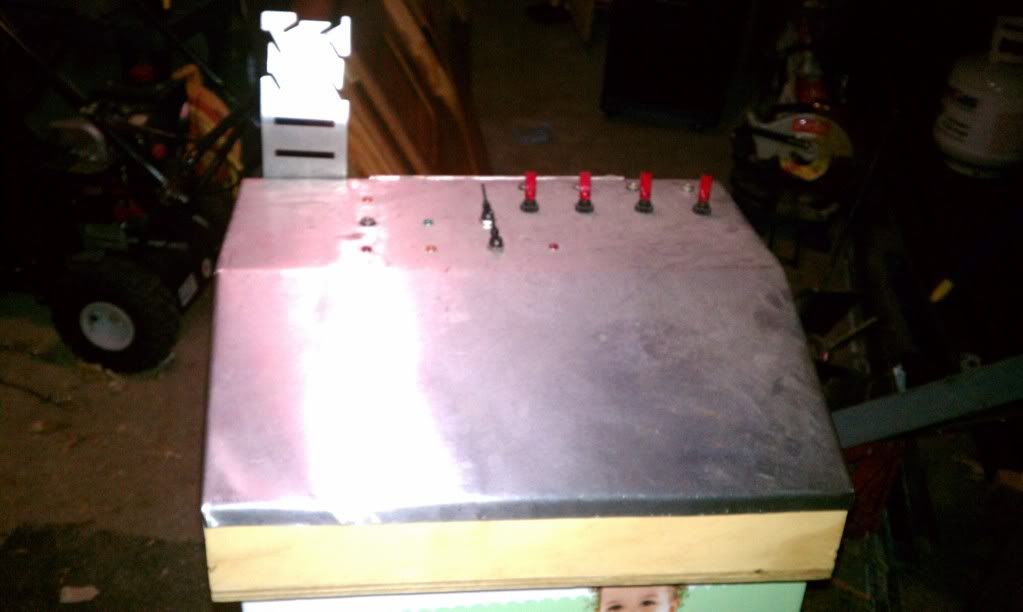 The magic in all of this is the relay. A relay is a mechanical switch that is toggled on or off by energizing a coil which is isolated from the power supply it is connected to. So when the Guru clicks on, it send a +12v pulse which energizes the relay and switches the fans on. You can see the little black relays here, tucked in on their sides behind the PSU. I have two relays for two reasons: 1. They came in a pack of 3 so why not? 2. if one relay or the supporting circuitry fails I have a backup.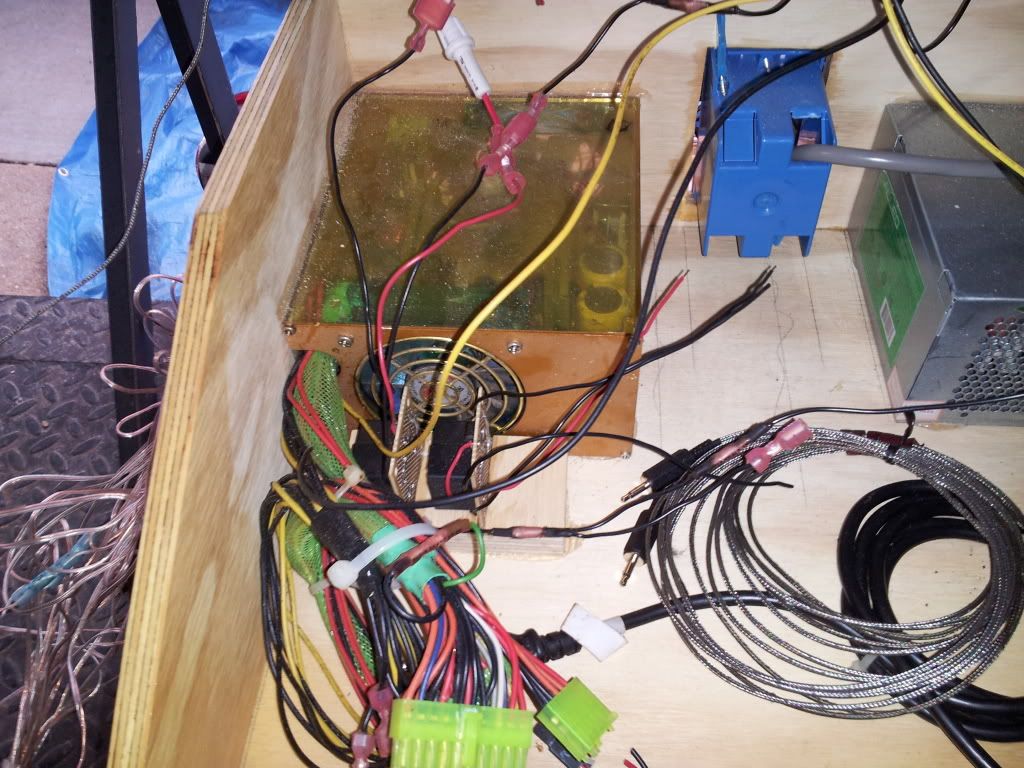 One VERY important note when working with relays. You ALWAYS need to include in your circuitry a diode across the coil between power and ground. This is done so that when the power is removed from the coil in the relay, current cannot flow backwards to your power supply. The diode causes a forward bias and sends any stray voltages to ground, where they belong. I cannot get a pic of this, but I can help if others have questions.
This is a pretty good tutorial on how to setup a relay and the supporting circuitry. This tutorial is meant for folks using a micro-controller, but the principles are the same. Just remember this tuorial and circuitry is for +5V not +12V - you will fry it if you apply +12V to it. I know.
http://www.sparkfun.com/tutorials/119
One last note - when building your box, allow plenty of room for air to flow and cool the electronics. I have not had to add a fan to the box yet, but it was a consideration when we were building it.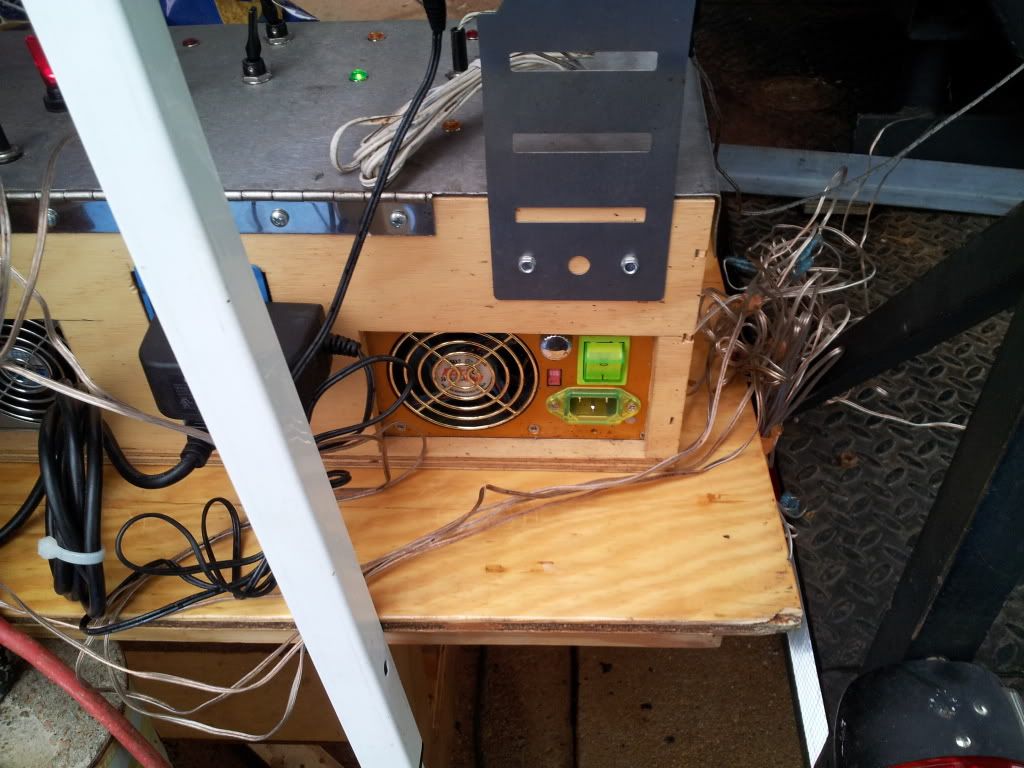 Here she is hooked up and running: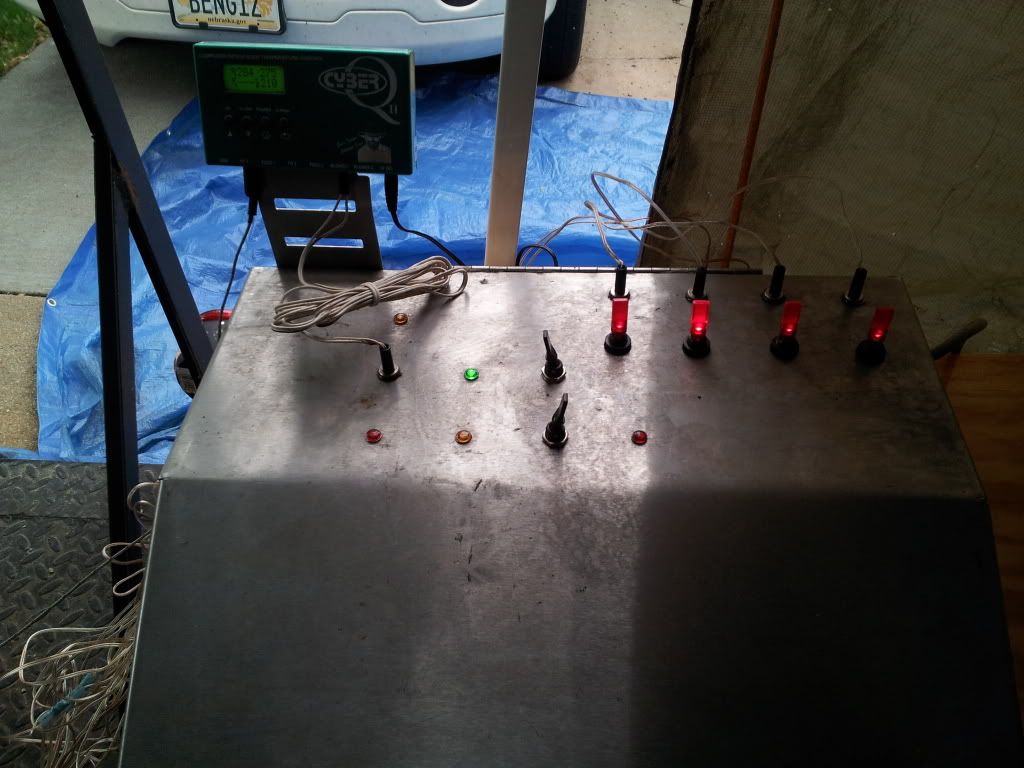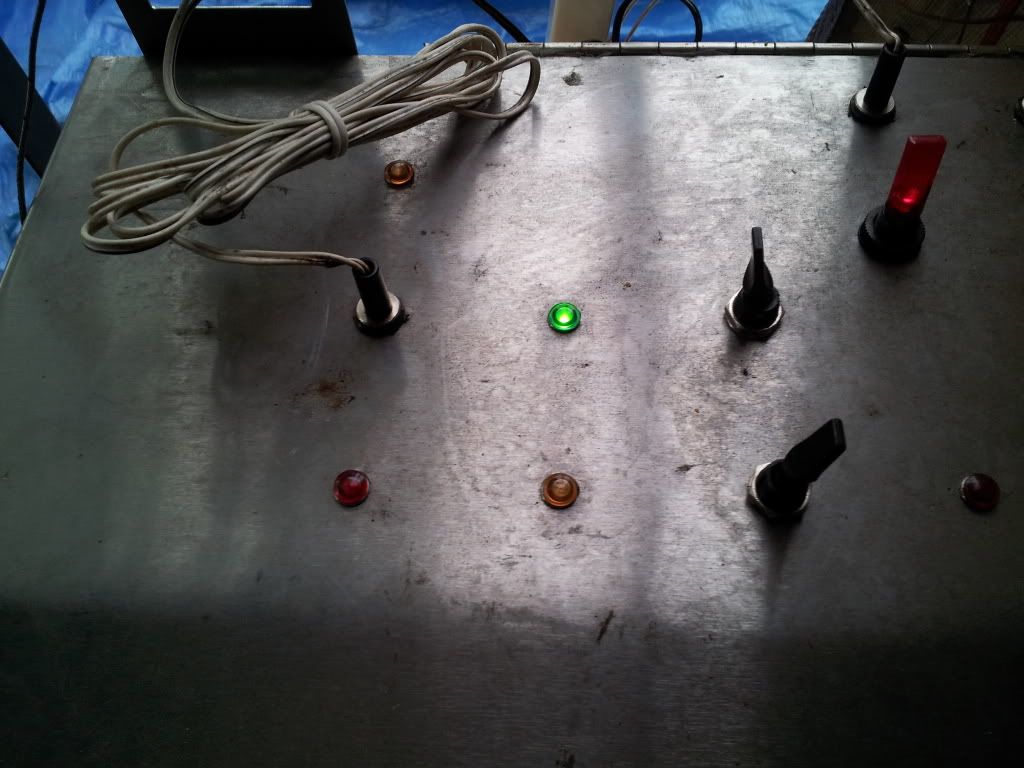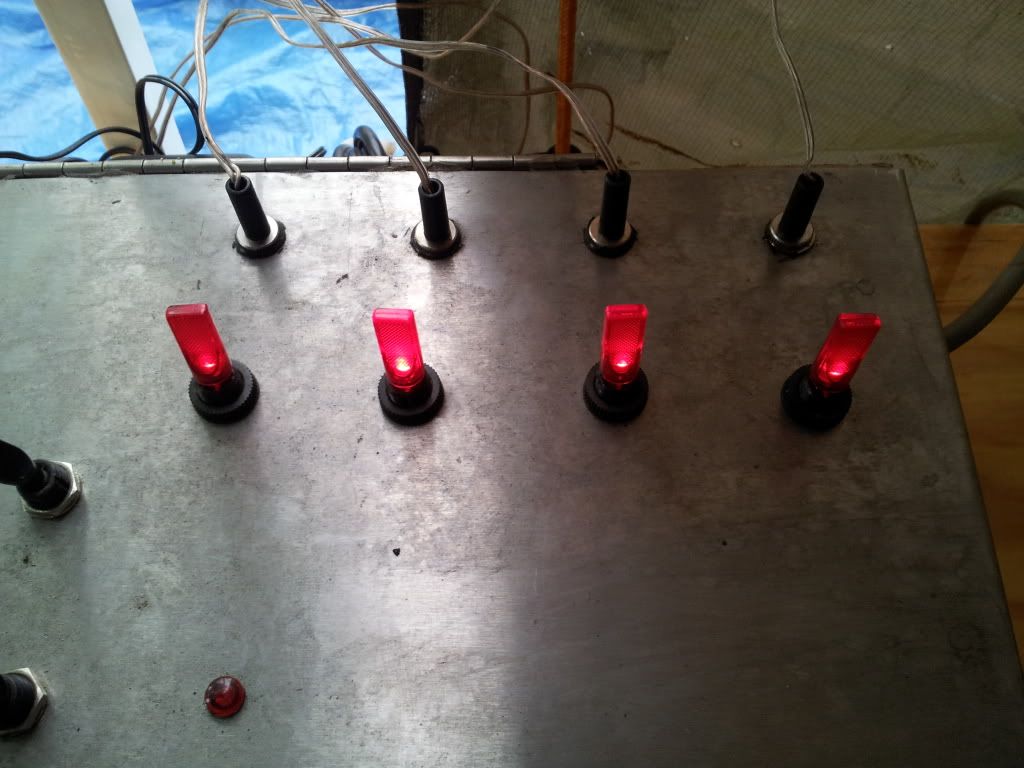 Up next we are working on programming our own micro-controller to operate similar to the guru with what I think will be a better more responsive algorithm. I believe the Guru overreacts to often and is then slow to get back in line. I also want WiFi - LOL. I see Guru just came out with WiFi. Results on that as soon as we have a working proto-type.
I am sure I left something off of this post - let me know what else you might want to see from this little project.